Support From a Lifetime Learner
Accept and Appreciate
Yourself
Be More Productive
and Organized
Enjoy Your Professional
and Personal Life
ADHD Books Lisa Recommends
ADHD 2.0: New Science and Essential Strategies for Thriving with Distraction–from Childhood through Adulthood – Edward M. Hallowell, MD; John R. Ratey, MD
A Radical Guide for Women with ADHD: Embrace Neurodiversity, Live Boldly, and Break Through Barriers-Sari Solden, MS; Michelle Frank, PsyD
The ADHD Effect on Marriage-Melissa Orlov
May We Have Your Attention Please?: A Springboard Clinic Workbook for Living–and Thriving–with Adult ADHD-Laura MacNiven, MEd; J. Anne Bailey, PhD, CPsych
Driven to Distraction (Revised): Recognizing and Coping with Attention Deficit Disorder -Edward M. Hallowell, MD; John R. Ratey, MD
Delivered from Distraction: Getting the Most out of Life with Attention Deficit Disorder-Edward M. Hallowell, MD; John R. Ratey, MD
Women with Attention Deficit Disorder 2nd (second) edition-Sari Solden, MS
Focused Forward: Navigating the Storms of Adult ADHD-James M. Ochoa, LPC
ADD-Friendly Ways to Organize Your Life: Second Edition: Strategies That Work from an Acclaimed Professional Organizer and a Renowned ADD Clinician-Judith Kolberg; Kathleen G. Nadeau, PhD
Organizing Solutions for People with ADHD, 2nd Edition-Revised and Updated: Tips and Tools to Help You Take Charge of Your Life and Get Organized-Susan Pinsky
Taking Charge of Adult ADHD-Russell A. Barkley, PhD
The Queen of Distraction-Terry Matlen; Sari Solden, MS
Additional ADHD Freedom Recommendations
You Don't Have to Deal With Overwhelm.
Grab The Quick and Easy Guide to Conquer Overwhelm Now!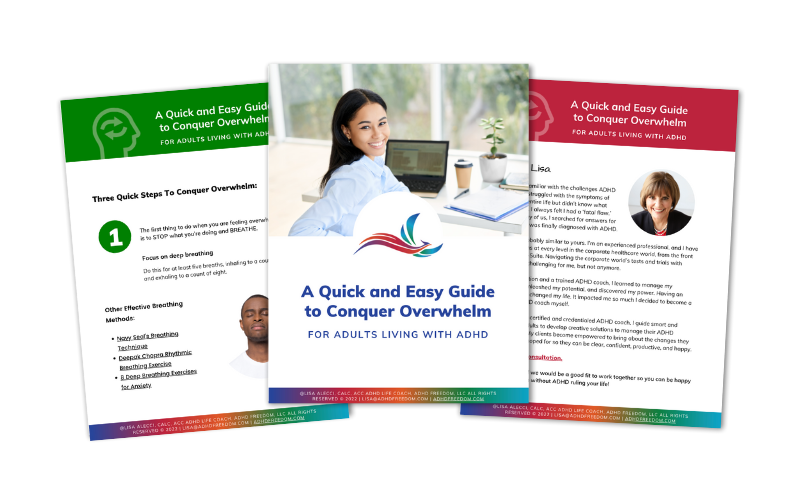 Let's build a strong foundation for success.
Together, we will review how you are today and your vision for a better life. We will discuss your current challenges, ambitions, and desires. Using ADHD strategies we create, I will provide the support you need to move forward and create the life you desire.